U scope – Stethoscope redesigned from 0.
Beautiful Sound. Beautiful User Experience. This is a brand new FDA Approved Stethoscope.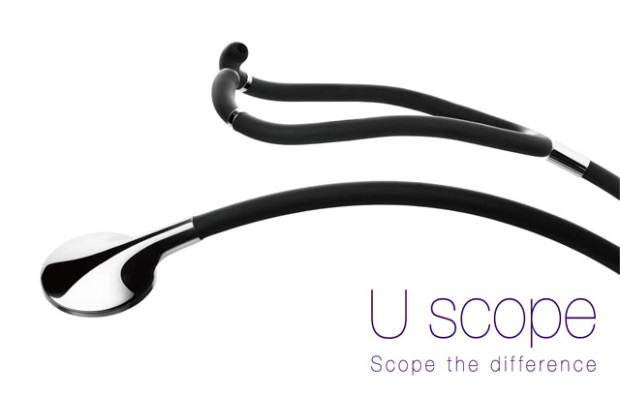 We, at Classico, always had a simple question. 'Why isn't there any stylish white coat?' This led us to create a high-end white coat that gives a boost of confidence to doctors. In the meantime, we came up with another question that we want to tackle – stethoscope.
Stethoscope was invented by a French doctor, René Laennec in 1816. Surprisingly, the basic design went unchanged for 200 years, and we learned from some doctors that they are suffering from ear-ache. We challenged the obvious in the medical industry, and redesigned the stethoscope from 0 (zero). Our answer is U scope.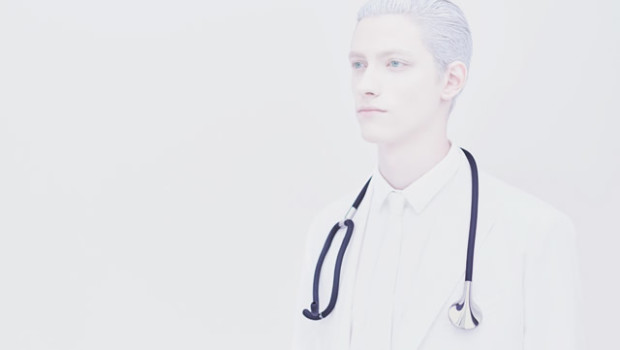 Performance
We worked with the top class stethoscope manufacturers and the best product designers in the industry. However, it took us almost 3 years to conquer this challenge. The beautiful look of the product isn't its only appeal. The design, the material and every component of the device makes it something special.
High Quality Acoustic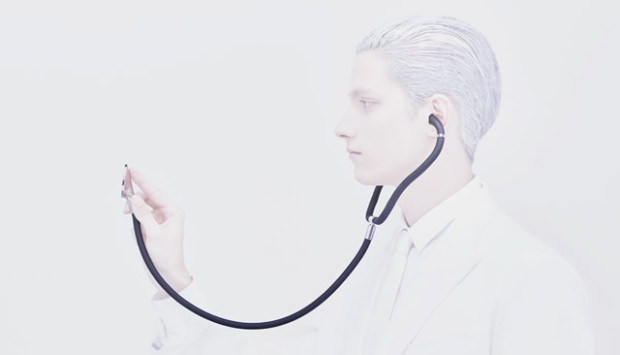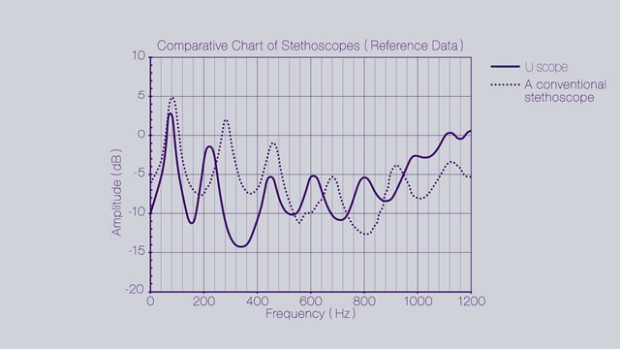 U scope's beauty is not only about its look, but it's about the quality of sound. U scope is designed so that air doesn't escape from the diaphragm to the ear piece. This minimizes sound decay.
The most comfortable fit
Our signature streamlined shape, and its inner T-shape structure portion helps to reduce the pressure on ears by 30%.
Comfort around your neck.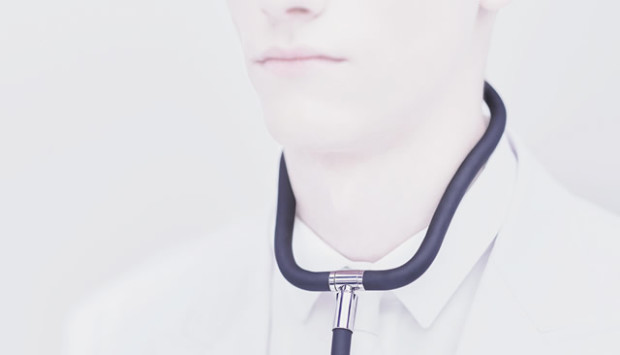 This streamlined shape also fits to doctor's neck.The shape of cubic curve, unique to auditory tube, reduced the pressure on the neck. Its round shape, based on décolleté line, is not only comfortable to wear but it also adds elegance to doctors.
Ergonomically designed chest piece.
The most notable point to mention is this special chest piece. It has been created through ergonomic designing so it fits naturally to our fingers. It also fits patient's body and allows optimum wrist movement for doctors, resulting in better hearing.
Portability to next level.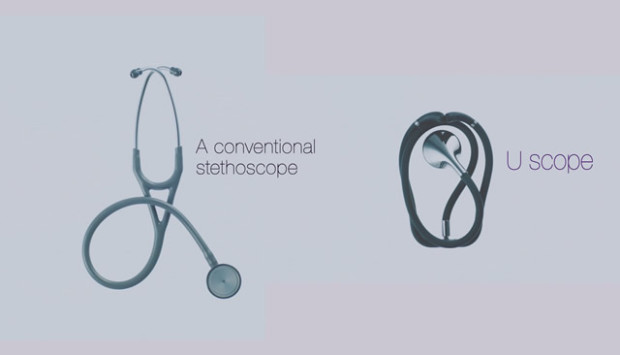 To look smarter while not using the product, U scope can be folded so it fits into a pocket.
Reaction and Recommendations
Kinga Kiszko, DO Family physician

"When I'm seeing a lot of patients of different ages, different body habits, I can glide this stethoscope very easily on their bodies. It's very light and it's very smooth and easily manipulated. "
Kamal Ramani, MD Internal Medicine and Medical Director
"All the way from the earbuts down to the bell, I've noticed that the design is very ergonomic, very physician-friendly, very easy to use, and very comfortable. That is why I was very impressed with this single bell stethoscope."
The Indiegogo Project and Perks
We are incredibly passionate about innovating stethoscope. We want many people to experience U scope and this is why we joined Indiegogo. Indiegogo is wonderful because you can bring the ideas to life. We are sincerely hoping to keep this innovation going with the people looking at Indiegogo. We have prepared some gifts (listed below) for kind donations so please take a look. Your help and support is hugely appreciated. Thank you!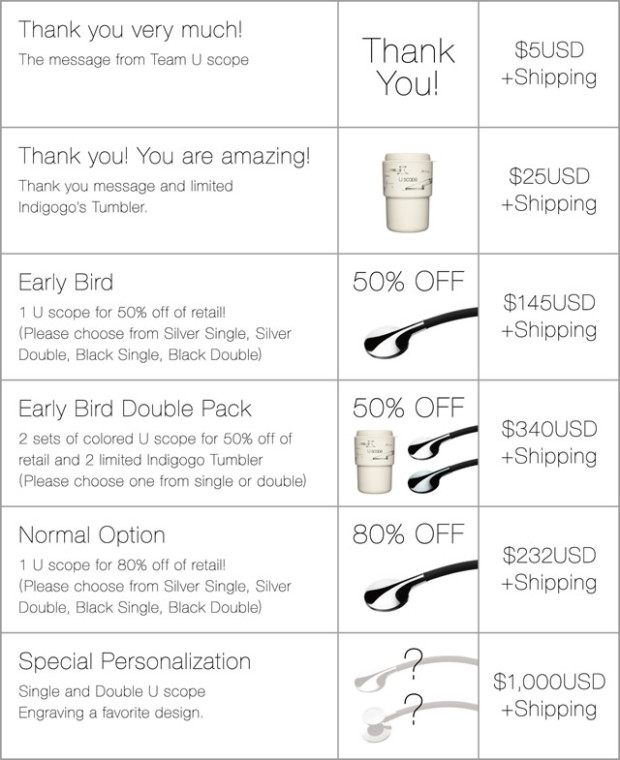 TEAM U-SCOPE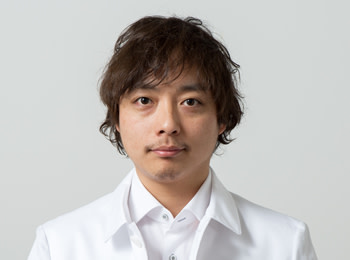 Arata Ohwa – Classico, Inc. Co-founder & CEO
Studied design while at university. Founded his own DIY Furniture brand after graduation. Then joined start up company to experience creating new business. Established the white coat brand 'Classico' in 2008. Awards include International Design Awards 2010 in the US (medical category/grand prix).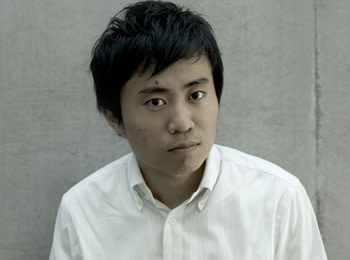 Hiroki Yoshitomi – Product Designer
Graduated from Tama Art University and pursuit career as freelance designer. Founded own studio, YOSHIO GOODRICH DESIGN In 2009. Producing various products that become vital to everyday life. This is done by finding relationships between the object and the people in contemporary life. Signature work include the cutlery series called "DRESS".
What is Classico?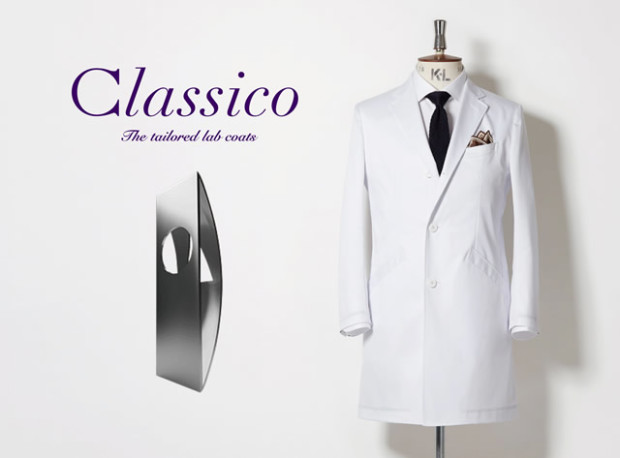 Classico was established in 2008 with one simple question: 'How come white coats are just same as other work wear?'. This question led to create original and stylish white coat. By applying tailor made quality, Classico's white coat has a slim silhouette with a touch of elegance. It is designed and produced to give a boost of confidence to doctors. Our design won the grand prix at International Design Awards (medical category) and this triggered our name to be known around the world.
Specifications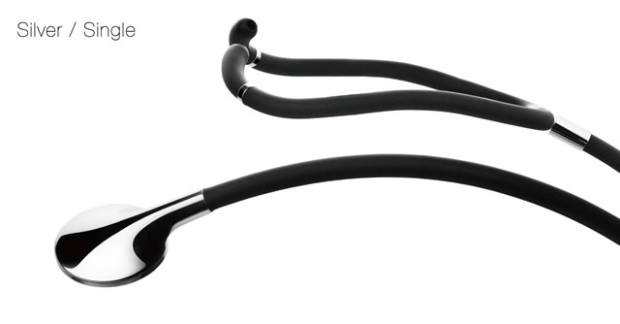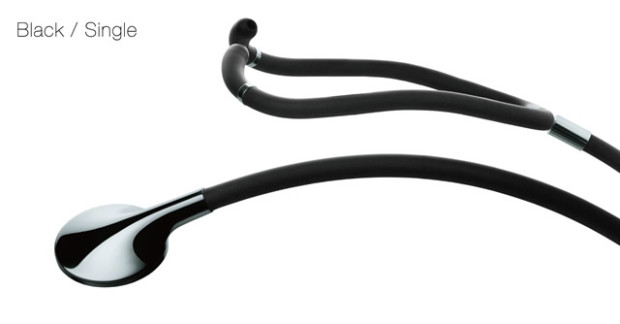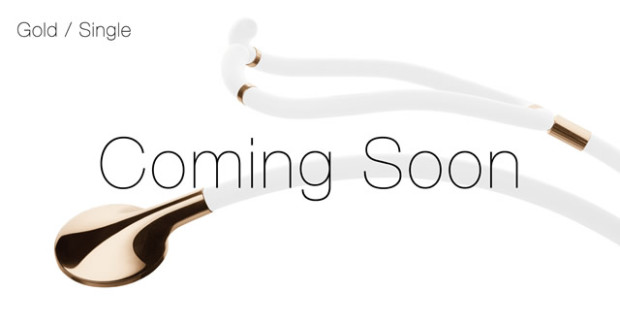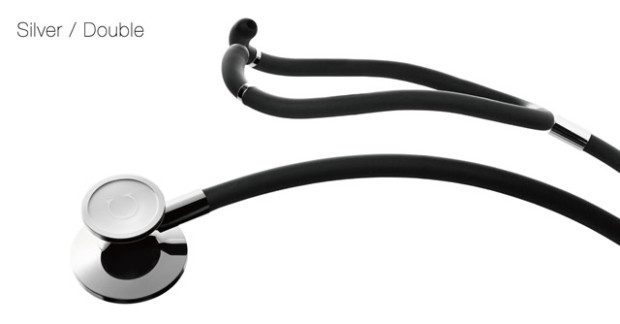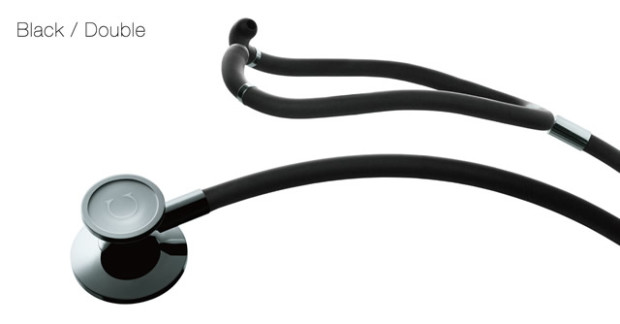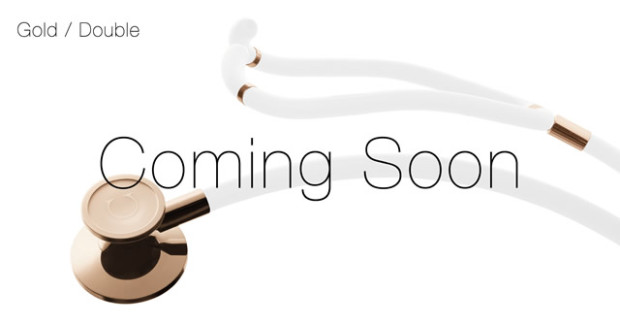 Color variation includes Silver, Black and Gold. Each has a single or double option.
Length         68cm
Diameter of diaphragm  50mm
Weight(Single/Double) 212g/220g
Limited Indiegogo's Tumbler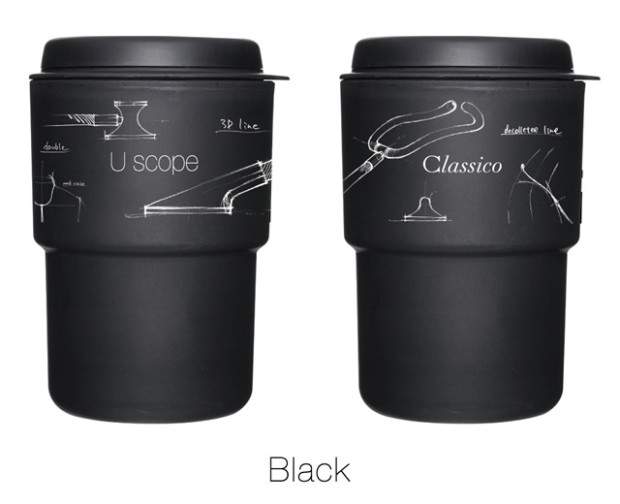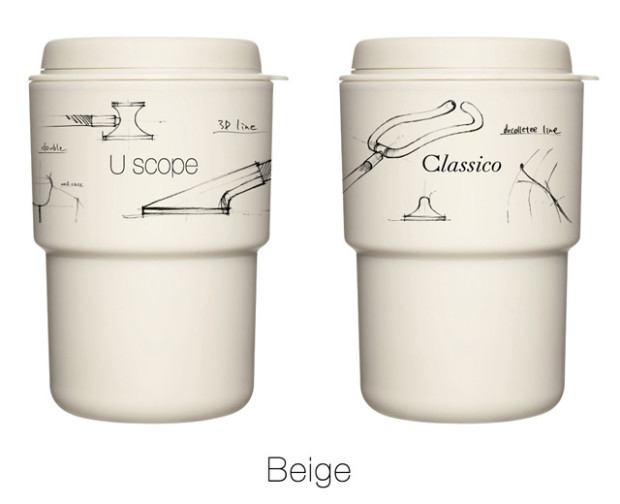 Indiegogo tumblers are designed based the cups to-go, "DEMITA." The tumbler holds 11.8 oz of drink and a straw of diameter up to 0.43″, and the robust material enables creative printing. Exclusively for Indiegogo, the drawings of Uscope development phase are printed on these tumblers.
FAQ
1. Is the U scope FDA and CE certified?
U scope is certainly certified by FDA and bears CE mark on the package. Registration is done by the manufacturer, KENZMEDICA CO., LTD.
2. Why can't I select the gold model?
We are working on creating the gold model with the color that we desire, but so far not able to come up with satisfactory color suited for mass production. Stay tuned as we are working on it!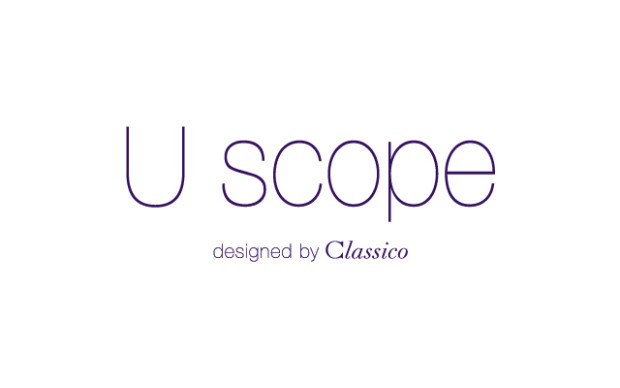 * Legal Disclaimer
"Delivery of rewards/perks are subject to best efforts and not guaranteed."
Find This Campaign On
Summary:
Beautiful Sound. Beautiful User Experience. This is a
brand
new FDA Approved Stethoscope.
Youtube: https://youtu.be/nk2BdedXM2I
See Campaign: https://www.indiegogo.com/projects/u-scope-stethoscope-redesigned-from-0
Contact Information:
arata ohwa
Tags:
Indiegogo, Reward, Consumer, English, Health and Nutrition, Hospitals, Facilities and Providers, Asia, Medical Devices, Japan, Medical & Healthcare, Industry verticals, Regions, Types of Crowdfunding deal, Language
Source: icnw