Acuswedemat – the acupressure mat that eases pain and gets you relaxed.
Most people are affected daily by common ailments such as neck pain, stress, lack of sleep, fatigue, sore muscles or headaches. Thankfully there is a proven, effective, simple, safe therapeutic tool to get sustained relief – the Acuswedemat.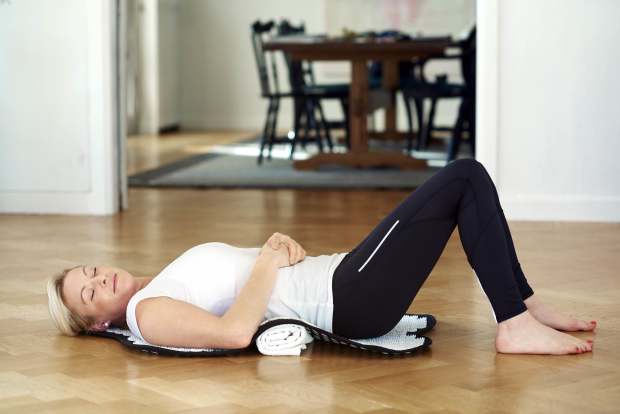 Acuswedemat increases blood circulation
The simple process of lying down and relaxing on an Acuswedemat will naturally reenergize and stimulate the release of endorphins and oxytocin, the body's own pain relief hormones.  These "happy" hormones, which are released during exercise, touch and excitement;  relieve pain, give you a natural high, give comfort to aching, tired muscles, provide stress relief and help to promote an overall sense of physical and mental well being.
The Acuswedemat can also provide a deeper more restorative sleep, increased energy levels, relief from migraine headaches, immune system activation, relief from colds, flu and asthma, and improved metabolism and digestion.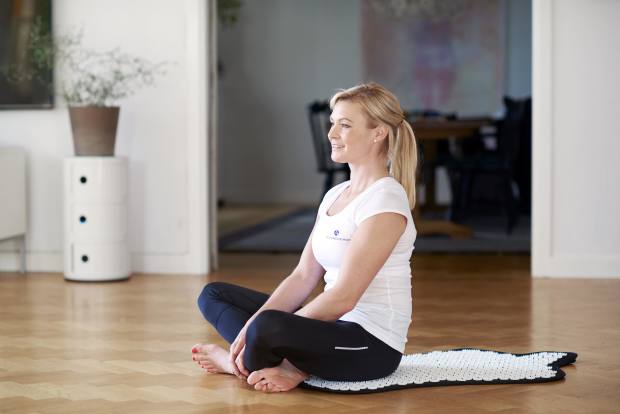 HIGHLIGHTS
Cost effective — compared to acupuncture 
Easy to use — just lie down and relax
Convenient — use it any time you need it
Safe — no needles, no chemicals, no risk
Private — use it at home, with no assistance 
Effective — 97% user satisfaction 
Acupressure points — almost 14,000 points/mat
Clinically tested — proven to reduce pain
Big size — Covers your body from the neck to the bottom

Clinical studies
Several clinical studies have been done in Sweden, the United States and Russia; scientifically proving that participants experienced a significant and measurable reduction in the intensity pain with no harmful side effects. 
Our own heat camera test done in the US shows that effect comes within minutes and the red parts in the images below,  shows how the blood circulation increases.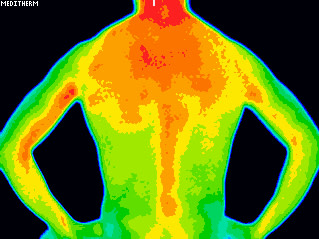 Before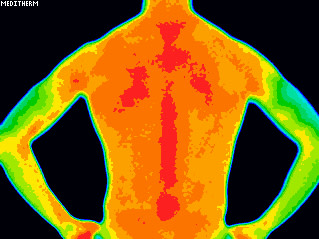 After
Innovative design
Together with one of the Swedish top Design agencies, we have developed a product that is desirably designed without taken away the functionality. Each set includes one acupressure mat and one practical bag.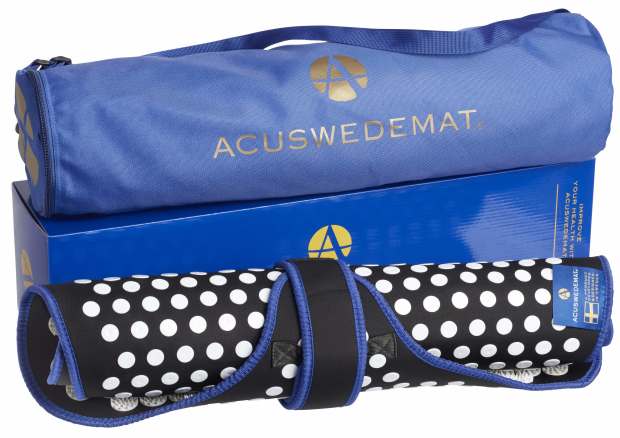 The three E's
Acuswedemat is Ergonomically designed, Easy to clean and Environmentally friendly as it's made of a eco-friendly neoprene material which is unique for acupressure mats.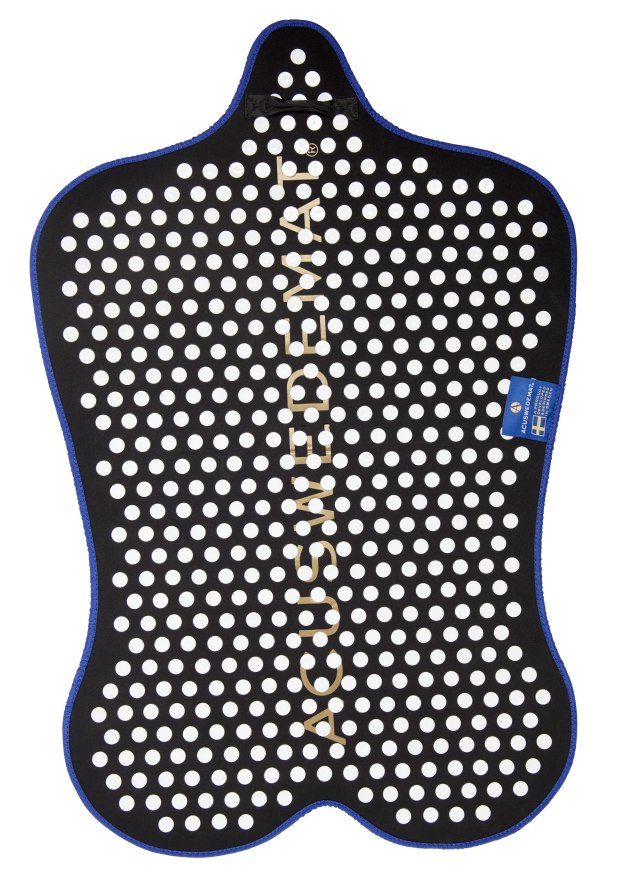 Testimonials
¨Acuswedemat is fantastic! It covers not just the back but also the neck and bottom and it's much more intense than the other acupressure mats I've used. It's actually rather addictive and it make's me wind down and relax before going to sleep", says Jeanna Högberg rides for the Swedish Dressage National Team.
"I love the Acuswedemat! I've been using the Acuswedemat for several days now and I love it. After a short while you can really feel how the blood circulation starts and how your muscles become relaxed. For me, that are not so keen on traditional massage, this is really the thing for me", says Marie Munters, Professional & International Dressage rider and member of Knytkalaset in Sweden.
"I love the Auswedemat! I get relaxed and warm when I use it. I also get less stiff. Thanks a lot J", says Nicola Phillippaerts, International Show Jumping rider, Belgium
"Due to my high work rate, I often have difficulty in winding down before going to sleep. The Acuswedemat helps me relax and my sleeping problems have vanished", says Jessica Löwencrantz, Business Strategist & Editor, Sweden
"Yesterday I started running again after two months. Today stiff back muscles (nothing to see with age J). The ideal moment to test the Acuswede acupressure mat! Result after 20 min: warm back muscles and stiffness has completely gone … a first very positive test", says Peter Vanherck, Belgium.
Facts: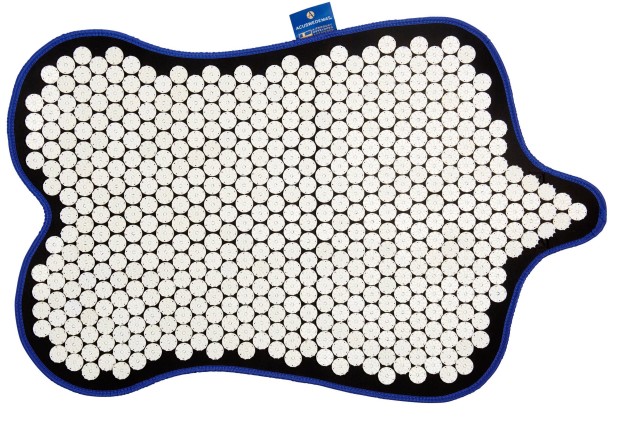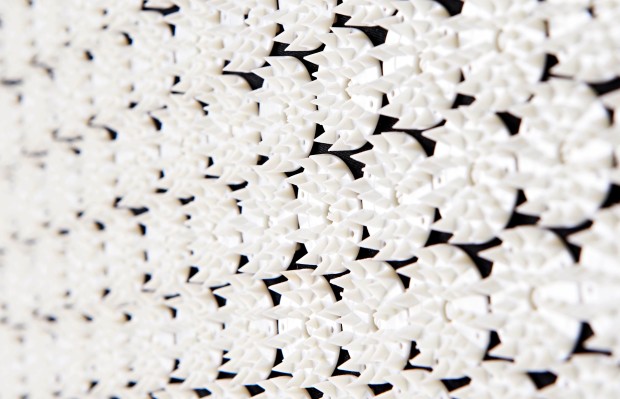 Length: 95 cm, 37,8 inches
Width: 60,5 cm, 24 inches
Acupressure roses: 513 
Points on each rose: 27 
Acupressure points: 13 851
Material — eco-friendly neoprene (diving suit material)
Strap with velcro fitting keeps the mat folded

 Why become an Acuswedemat backer?
Our mission is to help people be their best selves and unlock their full potential. Without health, that is impossible; it's the foundation for everything else. 
We have spent the last few years learning about acupressure and all the good benefits that comes from it. This resulted in the Acuswedemat. 
We need your help to reach our goal here on Indiegogo to be able to launch the Acuswedemat worldwide. We like to place the first order at our factory, make advertising, spread it on social media, visit relevant trade fairs and do all there has to be done to get this amazing product out on the market. We also want to make a more thorough heat camera study. 
We want everyone, all over the world, to get the chance to have an Acuswedemat to improve their well-being. 
For more information www.acuswedemat.com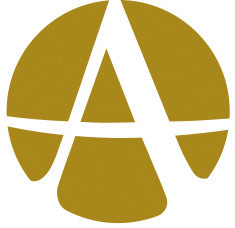 Shipping
When you back this project, you'll see shipping prices for your home country. We are based in Sweden, but will be fulfilling orders from the US and the EU. Please note that if you live outside of the US or EU, you may be responsible for local duties, fees and taxes.
Who are we?
Three years ago we developed and designed an acupressure blanket for horses. The blanket is used by elite riders all over the world. It actually worked so well on horses that the riders started asking us if there isn't a similar product for humans. 
So we started to think about how we could meet up these demands to develop an acupressure mat for humans. We set up a test team of elite riders  (that are known to have a very high demand of high quality products). This resulted in the Acuswedemat. 
Read more about Accuhorsemat on http://www.accuhorsemat.com
Summary:
Acuswedemat – the Swedish acupressure mat that eases pain, increases blood flow and gets you relaxed
Youtube: https://youtu.be/mEBpyB3ZLiU
See Campaign: https://www.indiegogo.com/projects/ease-pain-and-get-relaxed-with-the-acuswedemat#/
Contact Information:
Sanna Jernström
Tags:
Indiegogo, Men, Seniors, Women, Reward, Consumer, English, European Union, Men's Interest, Personal Care/Fitness, Women's Interest, Lifestyle & Leisure, Medical & Healthcare, Industry verticals, Regions, Types of Crowdfunding deal, Language, Sweden
Source: icnw