Introducing Stickybones
Stickybones is a highly-articulated, precision-poseable animation puppet, allowing artists, animators, students, and creatives at heart to explore expressive, gravity-defying poses quickly and easily. Stickybones is the best tool for storytellers looking to bridge the gap between your ideas to the computer. Super-flexible and extremely intuitive, Stickybones is made of engineering-grade polymers for ultimate strength combined with a sophisticated joint system, allowing you to tell your stories in a tactile, visually-engaging way.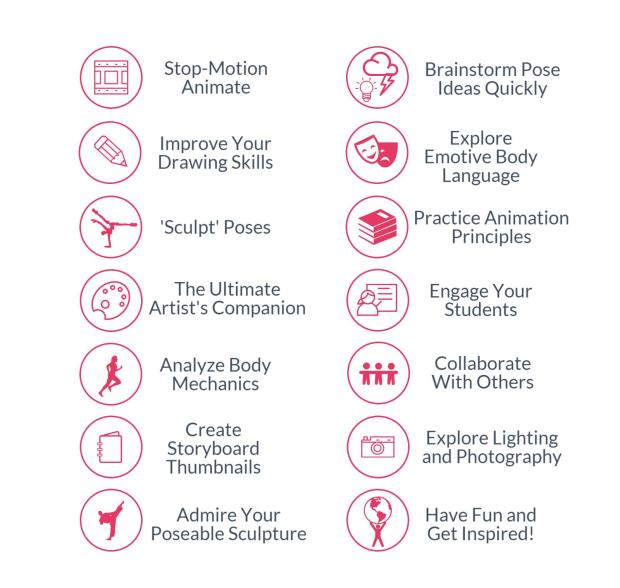 Move from idea to animation faster than ever
Create & Animate Infinite Poses Quickly!

Magnets in the feet and hands allow for dynamic, gravity-defying poses.  The ball and socket joints allow you to rotate each joint on any axis and are capable of tiny micro-movements allowing for seemingly infinite combinations.
Magnetic Hands & Feet
Ready to animate right out of the box
Stickybones lowers the barrier of entry for anyone looking to explore stop motion animation.  You can take Stickybones out of the package and start posing and animating immediately—no need to spend large amounts of time and money on building your own puppet from scratch.
Stickybones is the Ultimate Artist's Companion
Stickybones can hit and hold the poses you've always wished your poseable figure could.  We spend a vast amount of time studying human kinesiology to ensure Stickybones meets and exceeds the natural range of motion.
"I could definitely use Stickybones in my paintings—I paint a lot of dancers among other things and Stickybones is perfect for that because it gives me the perspective elements and structure I need to get a solid drawing. Then I can add all the other elements—the lighting, clothing and the general appearance of the character."
 — Emanuele Pavarotti, Blue Sky Studios (pictured above)
"I am an avid sketcher. I love drawing in my sketchbook and just coming up with really unique poses.  When I first saw Stickybones, I thought that this would be a really awesome way to explore posing."
— Garrett Shikuma, Blue Sky Studios (pictured above)

Stickybones is an Intuitive Tool for Arts Education
"As an art instructor, I have always wanted a better way to show my students how the human body moves. Using live models or wooden manikins left me wanting more.  When Erik and Lauren introduced their Stickybones figure to my middle school 3-D action figure sculpture class, it was quickly evident that this was the moveable figure that my students would benefit from and the type of figure I had been looking for. I can envision many exciting advantages and possibilities that Stickybones can offer, not only to the fine arts but also to many other teaching disciplines."   

— Sharon Wilkus, Art Instructor & Yearbook Adviser, Almaden Country School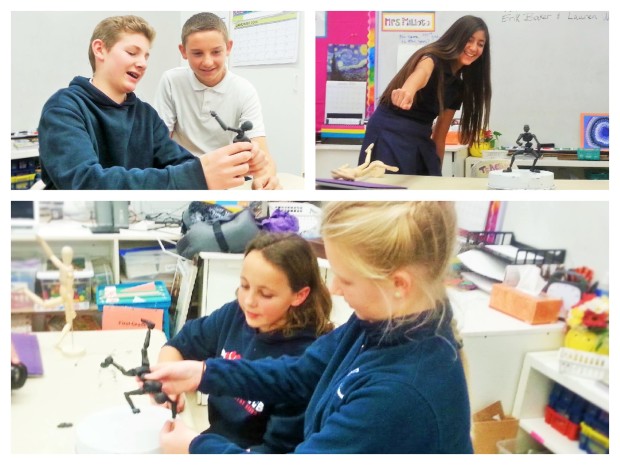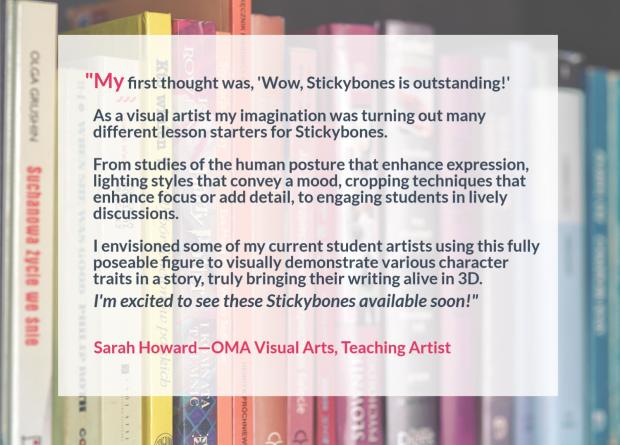 Stickybones is a Tool for Dancers
"I can see Stickybones technology as a go to in the performing arts for many disciplines of dance—not only for describing complicated choreography with intricate detail, but also for preserving works created today and historically. Our current forms of notation lack detail and movement—but Stickybones could allow for full and fluid demonstration. Also, Stickybones has endless options as a choreographic tool. This could be utilized for years to come."
— Derrick Agnoletti, Leading Artist with The Joffrey Ballet
How it works
Joints Engineered To Hold Your Poses
Stickybones has been engineered to withstand anything your imagination throws its way. As animators, we understand the importance of having strong and precisely functioning joints to consistently hold our poses.  From the outset, creating a solution that enables our joints to endure wide ranges of motion and repeated use has remained at the heart of our Stickybones design and functionality.  
Because our joints have the great benefit and convenience of a pre-tensioned socket system, one of the physical characteristics we are carefully scrutinizing are qualities relating to the retention of surface volume for increased longevity and optimum joint performance, enabling Stickybones to maintain their stiffness and ability to hold your poses with repeated use.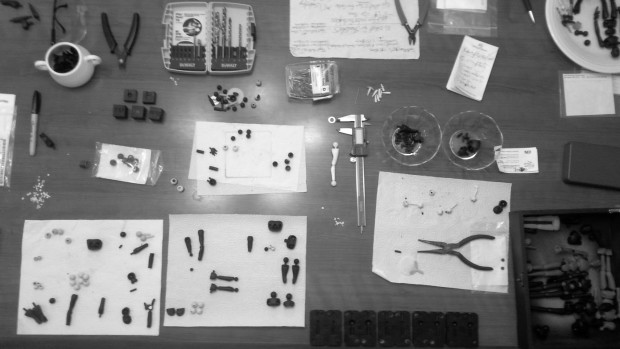 Our primary objective is to make the most robust and highly functioning animation/artistic figure on the market while keeping the price accessible to everyone.  Currently, the best way we can accomplish this is by having high-grade steel molds precisely tooled that will be used to then injection mold our parts with the highest quality engineering grade polymers.  Through the combination of design for animation and poseability, world-class tooling, ultra-tight tolerance injection molding, and specially tuned materials, Stickybones is infused and methodically constructed to help you more rapidly animate and create the poses you really want to hit!
Where Are We in Production?
We've designed and built working prototypes—now the next step is to build the tooling and molds for manufacturing.  We've chosen and are working hand-in-hand with a US-based manufacturer specializing in precision tooling and tight-tolerance injection molding.  We've also chosen a US-based packaging company and are currently reviewing packaging options.
We've already saved tens of thousands of dollars during the past year and a half of development by designing with precision CAD based software(Autodesk Fusion 360) and fabricating our own animation-ready prototypes using a combination of 3D (SLA) printing, tooling, and injection molding processes.
Summary:
Stickybones is a highly-articulated, precision-poseable animation puppet, allowing artists, animators, students, and creatives at heart to explore expressive, gravity-defying poses quickly and easily.
See Campaign:
https://www.indiegogo.com/projects/stickybones-rapid-posing-animation-made-easy–3#/
Contact Information:
Erik Baker
Tags:
Indiegogo, Art, Consumer, Reward, United States, English, California, Education & Training, Media & Entertainment, Industry verticals, Regions, Types of Crowdfunding deal, Language
Source: icnw